PROCESSOR POWER. HARNESSED. (MixMeister Compatible)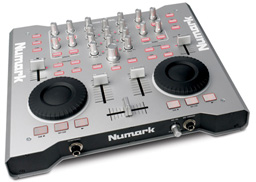 You love the power of software for processing and the convenience of your hard drive for mass-music storage. With a computer rig, you don't need to carry around hundreds of pounds of CDs or vinyl because your entire library can fit on a single hard drive. You can use the computer to calculate BPM, create and store extensive loop and cue points, manage your library, even beat match for you if you want! DJing with software is liberating, and at the same time limiting because – let's be honest – using a mouse and keyboard as DJ tools isn't all that satisfying!
Numark was the first company to recognize this and develop a
software controller
so DJs could use familiar, hands-on controls to manipulate and harness the processor's power in a DJ-friendly way. OMNI CONTROL continues our innovative tradition in developing cutting-edge DJ-control decks.
PROFESSIONAL FEEL. DELIVERED.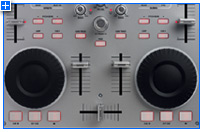 Software controllers are nice, but they don't always feel professional and solid. We build OMNI CONTROL from the ground up with nothing but tight, consistent knobs, buttons, and controls, and engineered OMNI CONTROL to live in its heavyweight, heavy-duty metal chassis. This is no plastic lightweight; OMNI CONTROL has the professional feed you demand.
TOTAL SYSTEM. SIMPLIFIED.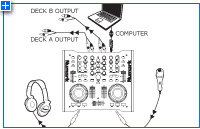 Most DJs hate getting to the gig, running dozens of cables, crouching on the ground in the dark, and then testing levels. That's why all-in-one systems are great. You can just show up, plug in, and you're ready to roll. But with software-control decks and laptops, you still need an audio interface to get the sound out of your computer and out to the PA system, as well as a second sound card for headphone cueing. So we built OMNI CONTROL to not only control most DJ software, but also house high-end, clean, 24-bit audio circuitry. You get two sets of system outputs, a headphone output, and even a microphone input. All you need is OMNI CONTROL. That's it.
SOFTWARE COMPATIBILITY. SOLVED.

One of the tricky points in putting together a computer-DJ system is choosing the right software to compliment your hardware. And once you get your system together, you have to spend tedious hours mapping the two to talk to each other. With OMNI CONTROL, we painstakingly developed our control system to work directly with Native Instruments' Traktor, one of the most popular DJ programs. Oh, and by the way, you get a copy of Traktor 3 LE in the box. You're welcome.

And if you like to go against the grain, we also designed OMNI CONTROL to work with MixMeister Fusion Live software. This production-performance program focuses your efforts on producing your gigs, rather than spending your time counting and matching beats. You also get a free download of
MixMeister Fusion Live.
ALL TOGETHER. NOW.
If you think about it, OMNI CONTROL solves the four most-common problems DJ have with using software. We developed a DJ-friendly, hands-on control surface that's laid out just like mixers and two decks. We built it with only professional-grade controls, and housed the unit in a no-nonsense, heavy metal tank of a housing. We built in a complete audio system with inputs and outputs, and made the whole thing connect plug-and-play to your Mac or PC with a single USB cable. We bundled in Traktor LE and MixMeister Fusion Live, pre-mapping the controls for easy, out-of-the-box compatibility.
In OMNI CONTROL, we didn't just decide to play the software-control game; we were there first. We didn't even just come up with a game-changer. With OMNI CONTROL, we took a careful look at the game… and redefined it.